We make it easy for you to have a beautiful beach wedding in Maui
Get our Maui Wedding guide, and get the secrets to having the Maui Beach Wedding of your dreams! Our experienced wedding planner, Susan Craft, has organized tips from over 15 years of experience helping couples plan the perfect destination wedding in Maui.


You'll find the best wedding ideas, plus all the DO's and DONT'S to make your Maui wedding stress-free. We're offering it FREE, because we want you to have a great destination wedding in beautiful Maui.

Click here to get your FREE 41 page guide:
http://affordablemauiweddings.com/get-our-maui-wedding-guide/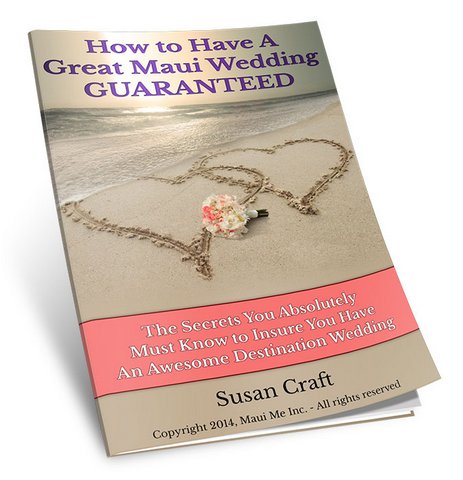 Read what recent clients are saying:
Aloha Susan,

Thank you for the quick response. Mark and I would love for you to be a part of our special day. We agree White Rock Beach sounds wonderful. I have chosen the third bouquet from the flower selections you sent (exactly what I was looking for, thank you), and we have decided to have the Christian ceremony presented by either David or Shari. I will contact you shortly for deposit and confirmation of our date. Thank you again for your quick response and genuinely friendly demeanor.

Sincerely,
Nicole R S.
___________________________
First off I would like to say thank you for promptly returning my phone call and getting everything scheduled so fast. I am sure you often deal with hesitant people due to the fact that I don't actually get to meet you and you are scheduling something so important to me. You were a pleasure to speak with on the phone and made me feel comfortable instantly with my decision to go through your company.
The pictures were beautiful. Cameron and myself will make sure we are at White Rock right on time. In regards to the lei what one was chosen in the pictures you sent me of the couple that got married? Was that pastel or vibrant?
We have chosen the Spiritual Ceremony for that day.
I will be happy to pay the remaining amount on April 10th. Will you need me to call you with my card information again or can you just run that thru for me?
I look forward to hearing from you.